Having gone almost two years without posting here (and I can't even really blame the pandemic), I thought I'd have a go at writing weeknotes. I'm not sure yet whether I'll really have anything interesting to include each week (I suspect not), but we'll see. Maybe it'll even encourage me to do more stuff so I can write about it.
Apparently week one of 2022 is the one that started today, so this is more of a preface and a trial run. I'd almost forgotten I had this blog too – I might migrate it to something more towards the static end of things at some point. Or, you know …

As usual, running featured quite heavily (47.3 miles), including drawing a reindeer, and the traditional NYE idiocy of cycling to Felixstowe, running on the prom for 45 minutes, getting in the sea (shoulders under and minimum one stroke – them's the rules), then drying off and heading home via various pubs. Ended up in the Cricketers ('spoons), where they had Abbot Special Reserve for £1.99, and – as usual – Mr Harper was a bad influence.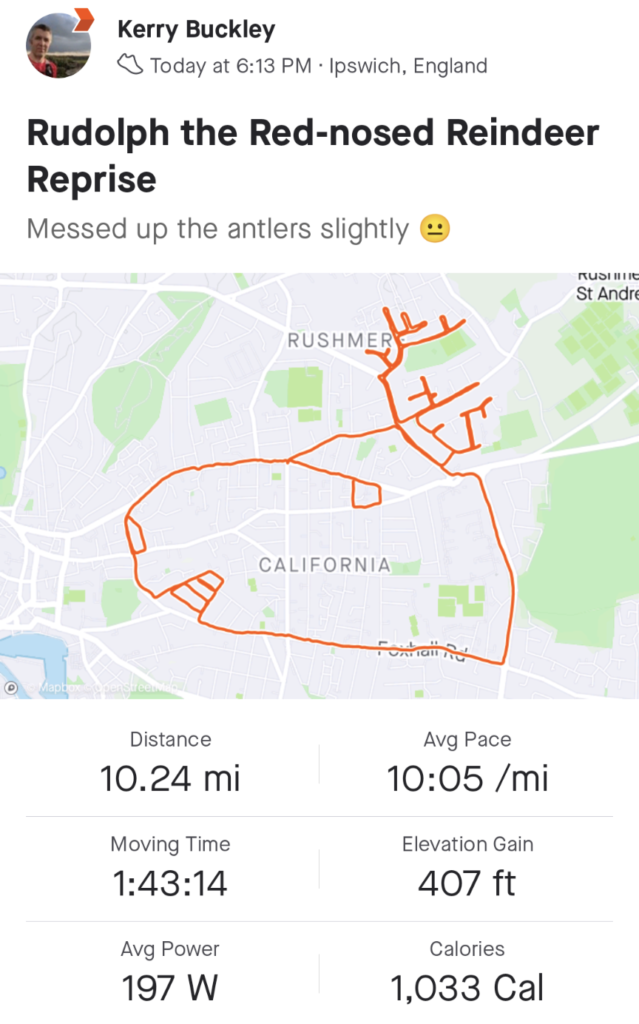 I'm never usually one for staying up to see in the new year, but this time I excelled myself by going to bed at around 8pm. Got woken up by the fireworks, naturally.
Did a bit of geocaching for the first time in ages. A few years ago I reached the point where I'd either found, or failed to find, all the ones within cycling distance, but there are plenty more now, and I bagged a few while I was out running.
I compiled another cryptic crossword; something else I haven't done for a few months. And I hit a 365-day streak learning Spanish on Duolingo, although I had cheated slightly by using a "streak freeze" a couple of times – once when I went to do my daily practice and realised it was gone midnight, and again on New Year's Eve, having run out of hearts (and time) in the morning before quite finishing a lesson, and unsurprisingly forgotten to try again once I arrived home after the Abbot Special Reserve.
I'm still intermittently practicing drums – mostly using Melodics at the moment for a bit more structure, after spending a few months just repeatedly trying to learn and play along to the same few songs.
I even did a couple of days' work between Christmas and New Year because I was bored (though that doesn't help with using up the leave I need to take before April). For some reason it seems easier to spend time at this time of year on technical debt type stuff more than new features, although I did a bit of both. Nothing very exciting, although I will say that I still really like Phoenix LiveView (at least for the kind of work I mostly do, which is internal-use web apps with no API, and no mobile apps).
Well that's more than enough for one week I reckon. I wonder how long I'll manage to keep this up …