Last week I mentioned some minor annoyances with my electronic drums. The main one is that the hi-hat controller often fails to register that it's closed, meaning you have to lift your foot up and try again until it gets the message. It occurred to me that maybe the solution would be to just replace that controller (or possibly the whole hi-hat assembly) with a better one, then a web search took me immediately to the details of an upgraded controller that the manufacturer has released for the same kit. Then somehow researching that I ended up on their firmware updates page, and noticed that there've been a couple of new versions released since I bought the drums. I downloaded the latest files, upgraded and did a factory reset (after a short delay while I scoured the house for a USB drive – funny how they used to be indispensable but now I hardly ever see one), and to my delight the pedal finally behaves correctly! Now I'm only limited by my lack of actual playing talent.
I had a brief play with Bard, Google's leap onto the large language model AI bandwagon, with mixed results. First I asked it to compare Ecto with ActiveRecord, and amongst some reasonable points it bizarrely suggested that the former could be faster because it uses PostgreSQL instead of MySQL (there are plenty of things that might make it quicker, but I'm not sure even if that were true – it's not, of course, as either can use either – that's one of them). Then I tried asking it a classic riddle, with a small alteration, and it amused me by happily giving the usual answer, apparently seeing no issue with replacing the guard who always lies with the former PM.

On Thursday I gave blood. It was my 60th donation, and went very smoothly, with only a short wait, a straightforwardly passing haemoglobin test (the previous few times they had to repeat the test with the proper measuring machine instead of the copper sulphate drop test) and a nice speedy extraction of the near-armful. Shockingly though they had neither bourbons nor ginger nuts, so I had to make do with a Kit Kat.
On Friday I finally pushed my last responsible moment getting up system for Run for Coffee a bit too far, and got to the rendezvous point just after they'd gone past. Of course by the time I realised I'd missed them they had a ten minute head start, so I tried to cut a few corners to catch up. This strategy was so successful that I arrived at Christchurch Park ahead of them. Just far enough ahead, in fact, that they were still out of sight (I only know all this from looking at the Strava flyby afterwards). I gave up at that point and came home to make my own coffee. As it turned out cutting a couple of miles off the normal route probably wasn't a bad thing with a depleted blood supply – I was quite tired by the time I got back as it was.
I had another couple of days off work – the usual March rush to use up the remainder of my leave – but as usual didn't make very productive use of them, although I did at least clean and service my bike. I've been powering through the Exercism #12in23 challenge too. I still haven't gone back to Ballerina, but I persevered with Pharo (the main problems I was suffering with were down to not having read the instructions properly) to tick off the required five exercises, then added Rust, Go, Scheme, Lua, Zig and Crystal. Obviously I'm only scratching the surface of each, and not in the same kind of structured way that you get from something like 7LI7W, but it's definitely confirming my bias towards dynamically typed high-level languages that support a functional style. The weird thing I've found with hopping between unfamiliar languages so quickly is sometimes it's a struggle to remember whether some piece of syntax or library function is from the one I'm currently writing or a previous one.
On Saturday I finally hit the 250 parkruns milestone, earning an upgrade to a green shirt, although you have to buy them these days. Then I had to rush home for a quick shower before walking back into town to catch the Camra Real Ale Runabout bus, taking us out to various pubs in Framlingham and Laxfield.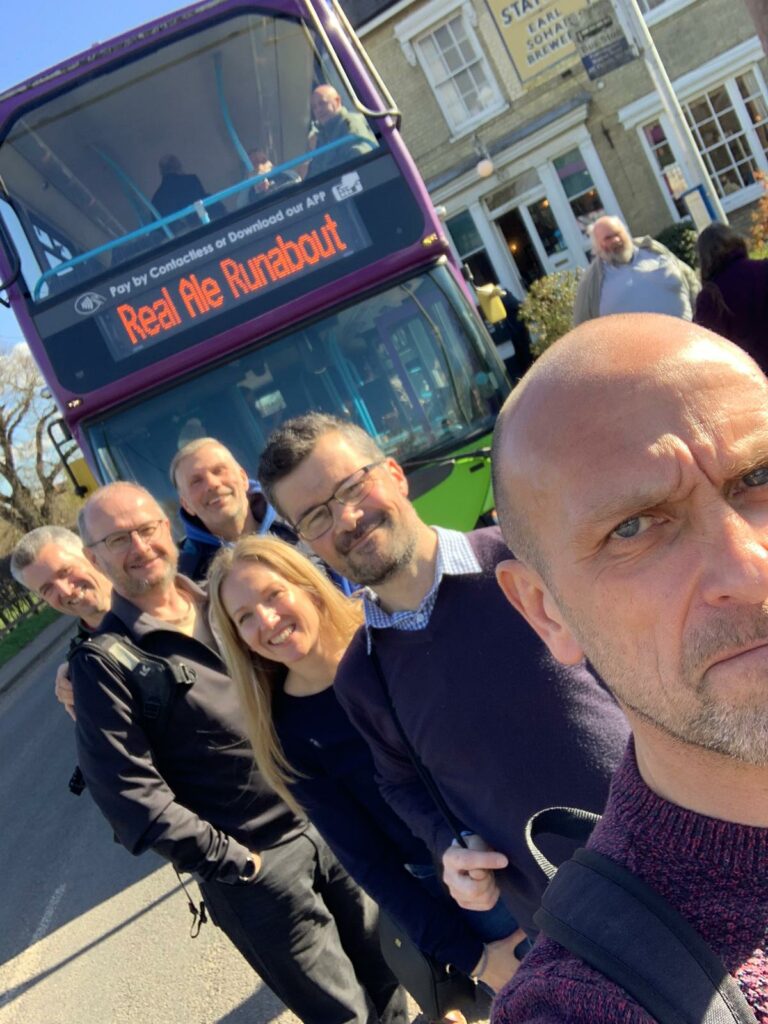 Amazingly despite Saturday's drinking, the missing hour and miserable weather, I still managed to be out at 8am on Sunday to join an intersecting group of people to go and run some laps of Portman Road football ground to support someone running a marathon distance round the half-and-a-bit-mile loop for charity. We left him to it after 12 miles or so before heading to the Cricketers, but just for coffee this time.