Almost forgot that today was Sunday, on account of tomorrow being a notional Sunday too.
I've finished #12in23, a little early – the dozen I ended up with were 8th, AWK, COBOL, Crystal, Go, Lua, Pharo, Rust, Scheme, Standard ML, Vim script and Zig. I also did a few more exercises from the Ruby and Elixir tracks, so with the abandoned Ballerina my tally currently stands at 14.4/12. It's kind of tempting to aim for five exercises from each of the 67 available tracks by the end of the year, but I suspect that way madness lies.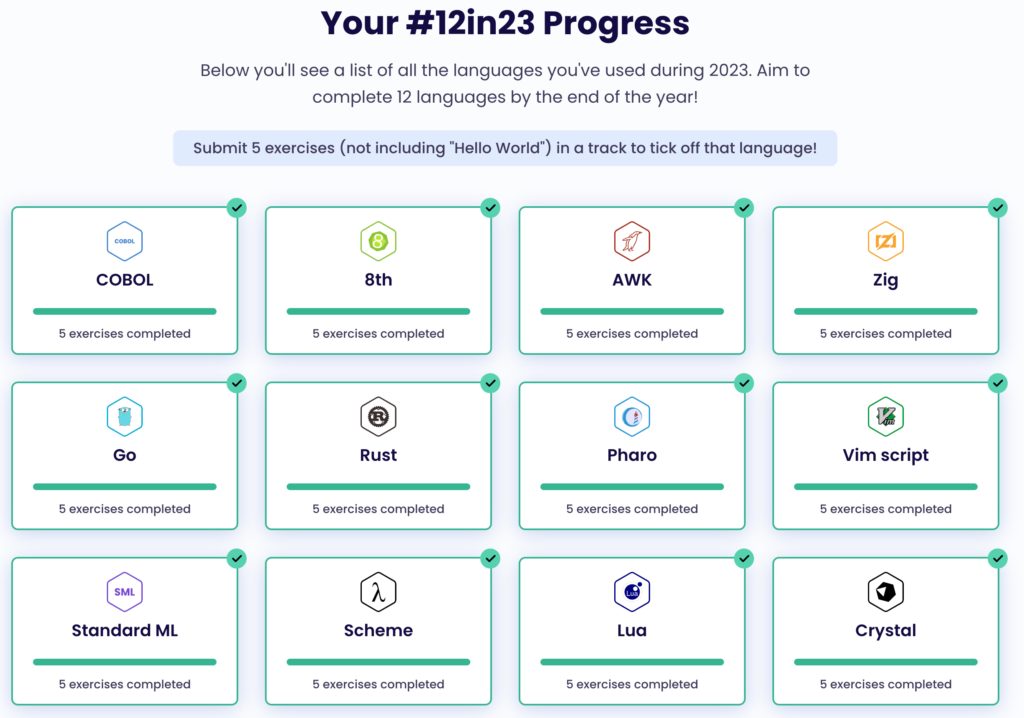 Still on the tech side of things, I spent Friday adding Absinthe to my work project (A Phoenix web app), and building an API around a specific (non-database) tool which was previously only exposed via a LiveView GUI. It was all in all a very pleasant experience, and I'm very grateful to past me for building the original feature as a UI-agnostic core component returning trees of well-defined structs, which were very simple to map onto a GraphQL schema. The only remaining snag once I thought I'd finished was that the bundled GraphiQL client doesn't seem to work on the deployed application, which I assume is something to do with it being behind an NGinX proxy.
A gentle start to the week, running-wise, then a busy weekend, starting with the Sudbury Fun Run (which despite the name is definitely a proper race) on Good Friday. I'd never done it before, but enjoyed it (if you leave aside the usual discomfort of running as fast as you can for five miles). It featured one of those sneaky elevation profiles where you feel like you're going uphill for ages, then lose all the height gained on a short steep downhill where you don't really get the benefit. Also an amusing feature where the route went slightly out past a turning in order for us to cross at a zebra crossing and come back on the other side of the road, no doubt much to the bafflement of people trying to drive past in the gaps between runners.
Saturday featured a change of parkrun, with a bunch of us running at Alton Water, then back to some friends in Holbrook for coffee and bacon rolls. The course featured some big muddy puddles – in fact more than a lot of this year's cross country venues – but I managed to finish in tenth place with a time just outside 22 minutes.
Sunday saw a third day of leg abuse with the annual charity "beat the bunny" event in Chantry Park (basically everyone sets off at staggered times based on their recent form, and tries not to get overtaken by the fastest runner, who is wearing a rabbit onesie). It should have been 5k, but ended up more like four thanks to parts of the park being cordoned off behind police tape after an incident.
I made my "hot cross buns" joke for the nth year, and fortunately managed to offload most of them on Saturday to supplement the bacon rolls, although I still ate more myself than is entirely healthy.