According to Twitter, anyway: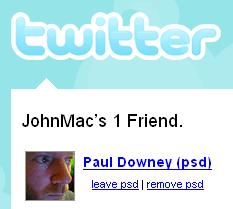 :-)
As I mentioned recently, I now work in the Web21C SDK team. The SDK provides a simple API for programmatically accessing various web services that BT provides, including SMS, conference calls and location services.
The SDK is in public beta, and is currently free (with daily usage limits). Up to now it's only been available for those crazy .NET folks, but the next release (on Monday, all being well) will extend that to Java, PHP and Python. Rumour has it that Ruby's in the works too.
I've been having a play with the Java version – here's a sneak preview…