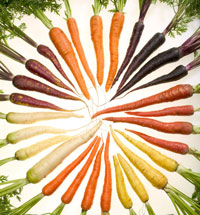 Traditional approaches to motivation tend to fall into one of two camps: the carrot ("do this and you'll be rewarded") or the stick ("do this or you'll suffer the consequences").
I guess I'm fortunate to work for a company (and in a country) where by and large there isn't a culture of firing people who don't meet performance targets – instead we have a system where an ever-increasing proportion of people's pay packet is made up of a performance-related bonus, rather than a fixed salary.
So, how do you go about getting your bonus each quarter? Simple: just meet your agreed targets.
Of course, nothing in a large corporation can ever be that simple, so in practice there's a complex tiered system of company, business unit, programme, project, team and individual targets, which are combined in a magic spreadsheet to generate how much bonus everyone gets. Each of these targets, and the performance against them, has to be agreed, monitored, quantified, audited and levelled. At each stage politics comes into play. Those that enjoy playing systems try to set targets they know they can achieve. People concentrate on meeting the letter of the objectives, possibly to the detriment of other activities, like helping colleagues or making process improvements.
Now step away from this corporate dystopia for a moment, into the world of Agile Software Development. A world where we value Individuals and interactions over processes and tools, and Responding to change over following a plan. A world where we strive to build projects around motivated individuals, give them the environment and support they need, and trust them to get the job done. Where working software is the primary measure of progress. Where at regular intervals, the team reflects on how to become more effective, then tunes and adjusts its behavior accordingly. Where the self-organising team, accountable directly to it customer or product owner, is responsible for its own delivery and processes.
Now, when agile teams in large organisations are forced to jump through the externally-imposed hoops of objectives, development action plans and post-implementation reviews (which add little visible benefit and take up time that could be spent delivering business value), is it any wonder that the carrot of performance-related pay feels like it's more of a punishment than an incentive?
[tags]agile,performance management,enterprise,corporate,hr[/tags]
Public domain photo from Wikimedia Commons.